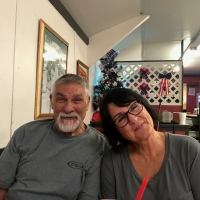 Newsletter 2017
By Mike | September 13, 2017
M K Rogers Ministries, Intl. Newsletter 2017
June 3, 2017 M K Rogers Ministries became ten years old, and we are praising God for His goodness!
Ten years ago, we were sent out from our church into the ministry God had called us to. We have seen a lot of changes in this ministry and in our lives since then. In these later years, we have come to understand more clearly the greater scope of the vision God had called us to do. Get people saved, teach, train and equip God's people, His church. To heal the brokenhearted and set the captives free. To help churches and the peoples that need our help. To strengthen and raise up leaders. Teaching and training people on how to enter God's glory, into His Presence. We are foundation layers.
For ten years it has been a walk of faith, and still is, demonstrating God's love and power. We started out by ministering in various churches that invited us and holding home "Glory Meetings" where we led people of all ages into God's Presence, into His glory! How to hear the voice of God and move in the Holy Spirit's gifts – they have been powerful and life changing encounters for everyone!
We started a weekly home Glory meeting at Korky's brothers house in Temecula exclusively for Native American leaders which lasted for over a year. Due to that meeting we met and became friends with Pastor Richard Dominguez and his wife Donna and were asked to minister at their church, Kish Hati Wenet, on the Pala reservation. We ministered there every Thursday night and some Sundays and special services for over 7 years. We were placed as associate pastors by Pastor Richard and Donna and their church became our home church for a season. God opened doors and graced us to minister on other Native reservations also during that time and we were very blessed to be accepted and heard by the people. We also worked with First Youth Nations, an extensive ministry to Native youth on different reservations across the nation.
Mexico opened to us about eight years ago through a God ordained appointment in Ensenada, Mexico. I was asked to minister at Pastor Drew's church in Ensenada and while there I met Pastor Santiago Samarin of Bethel Church Ensenada. Which became the main church we worked with and out of in Ensenada.
For years, at Pastor Santiago's invitations, we conducted three and four day conferences at least twice a year, at Bethel and several other churches that are in relationship with Pastor Santiago. Teaching and training on the believer's position and authority in Christ, how to move with the Holy Spirit and His gifts, etc., with God's love being demonstrated through signs, wonders, and miracles.
During this ten-year time line, I was asked to lead a men's Bible study on the Soboba Reservation and within one year the study for men turned into a family church service, and became the Soboba Church of all Nations which ran for 5 years. We raised up leaders and taught new believers foundations classes, our spiritual authority, Holy Spirit, healing, deliverance and various other basic teachings of Christian faith. We continue to keep contact and friendship with the people of SCN.
Over the years Korky has held women's conferences and been a speaker in other women's conferences and retreats. I also have ministered in men's conferences and retreats.
In 2014 our son in-law Troy and daughter Jennifer asked us to be the spiritual covering for both them and their church, Generations Church Moreno Valley. Then in 2015 they asked us to help with prayer counseling, leaders teaching and training and preaching. We also became part of the teaching staff of GCMS, Generations School of Ministry.
Pastors Troy and Jennifer needed campus pastors at Temecula, so in keeping with what God has called us to do, we volunteered to step into that position to help fill that need and continue to lead, teach and train. We are enjoying the work and have an excellent team alongside us at GC Temecula!
Meanwhile we still occasionally conduct home Bible studies and Glory meetings as time and invitation allow, as well as ministering in other churches, Mexico and among Native American believers. We also continue to do private prayer counseling for healing of hearts and freedom from the enemy.
And there is so much more that could be shared, but we could not do what we are called to do without your prayers and your financial support! Thank You so much from the bottom of our hearts!
Love & Blessings!
Mike & Korky Rogers
M K Rogers Ministries, Intl.
Back